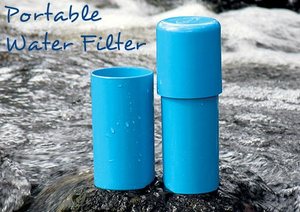 Because of our worldwide distribution, prices vary from country to country. For this reason this product is not sold online. Discounts and no interest payment plans are available for Better Health Solutions USA customers. Call or Text 954-893-2002 for more information.
For cleaner, great tasting water where and when you need it.
Portable, handy and easy to use, you can take it with you everywhere you go. Save $5 to $7 a day on bottled water, and more than $100 per month.
Provides approximately 5,000 eight ounce glasses of clean, better tasting water. Take it with you to work, school, gyms, restaurants, and vacations.
Simply pour your tap water in… and safe, great tasting filtered water comes out in seconds.
*Ideal for use where water supply may be unsafe, such as during emergencies and camping trips. (Just add chlorine tabs first to disinfect the water, let it dissolve & then pour it through for removal of chlorine)
SAVE THE PLANET: 60 million plastic bottles end up in landfills and incinerators every day – a total of about 22 billion last year.

SAVE MONEY: Americans BUY more than 38 billion bottles of water every year. 1100 bottles per person.

SKU: FILPORT/62